North Myrtle Beach Insect Control Programs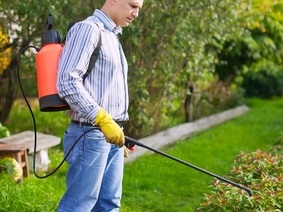 When you know that you are in need of an expert to work with for your North Myrtle Beach insect control programs you may be trying to prevent a problem – or may already have one. Here at SeaGreen Lawn Care And Irrigation, Inc. we specialize in providing our customers with insect control for pests that damage lawns and plants. Our number one goal is to be able to work with you in order to provide you with all the important services needed to establish and maintain the perfect lawn. The bottom line is that you cannot have the home of your dreams without having the lawn to go with it.
Unfortunately, too many homeowners assume that once they have the perfect lawn the rest just takes care of itself. Keeping that lush, green lawn is the trick and it is an ongoing process which is why it makes more sense to simply hire a North Myrtle Beach lawn care services professional to take care of the work for you. We care as much about you having the perfect lawn as you do and that shows in the commitment we invest into making this happen.
Insect Control Specialists
The SeaGreen Lawn Care And Irrigation, Inc. knows the importance of aggressively preventing and eradicating any insect or pest problems in order to keep your grass healthy. One of the problems with missing red flags for a developing pest problem is that it can evolve into infestation rapidly, once it takes hold. As if the insects were not enough of a problem, once they begin to compromise the well-being of your lawn, this makes it easier for other threats to move in and make things worse.
Weakened grass can be much more susceptible to things like disease and weeds after being first attacked by pests. As pros in warm season grasses in the area such as Bermuda, Centipede and Zoysia we are well trained and experienced with the types of threats that are most likely to invade these types of grasses. The last thing that you want to do, when it comes to your lawn, is let an otherwise healthy and stunning looking yard get destroyed by pests. Let our lawn care company provide you with a custom solution to your bug problems.
Myrtle Beach Insect Control Programs
The time to get proactive about your Myrtle Beach Insect control program is now and the name to call on to make that possible is SeaGreen Lawn Care And Irrigation, Inc. With more than 30 years of hand on experience in the industry backing up the company founder, you can rest assured we take this line of work seriously. Get in touch with our North Myrtle Beach lawn care company right now so that we can provide you with the work you need to keep the immaculate lawn you have worked so hard to achieve.
If you need lawn insect control in North Myrtle Beach or the surrounding areas, please call 843-249-9565 or complete our online request form.
Recent Articles
Understanding Spring Dead Spots - It isn't uncommon around late April into early May to detect spring dead spot on your lawn. Spring dead spot is a disease that is normally discovered during the greening up period and are large dormant spots on your lawn that can surface as circular or irregularly shaped patches. … Read More
ALERT – ARMY WORMS - The season is fast approaching for army worms to invade area lawns. Seagreen Lawn Care wants you to be aware of the devastating damage that army worms can do almost overnight. We offer a preventive insecticide treatment to avert army worm attacks … Read More