North Myrtle Beach Irrigation Installation Pros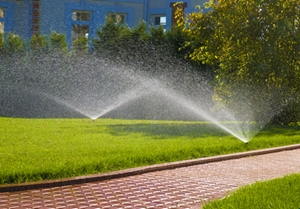 If you are searching for the right North Myrtle Beach irrigation installation professionals to work with in order to get your custom lawn watering needs taken care of, you need to know that you are getting the best. This is why so many home and business owners make the wise choice and call on SeaGreen Lawn Care And Irrigation, Inc. We care as much about helping you have the perfect lawn, as you do. We have the training, skills and most importantly, the experience needed to design and install the perfect system for your exact needs.
We have a working knowledge and understanding of what different types of grasses need and are able to plan out a lawn irrigation system accordingly. We can also install water and money saving devices such as rain sensors. The key to having the perfect lawn is making sure that you are able to provide it with sufficient amounts of water, this is especially important during the establishing stage. We can help you get set up for long term success with your grass and plants by getting you the perfect, irrigation customization.
New Irrigation System Installation Professionals
Too many homeowners make the mistake of thinking that they can simply water the lawn using a hose. This is time consuming and you run the risk of drowning out some parts while missing other sections completely. Your lawn is going to need even and regularly scheduled watering, so make it a point to get a system in place that can properly take care of this for you. Our North Myrtle Beach irrigation systems experts will custom design a watering system for your home or business so you can establish and maintain the perfect, lush, green grass.
Our number one priority is providing our clients with the superior irrigation services they need. While every lawn care company promises great quality and service, we actually back this up by promising you also get the best in responsible and dependable service. Too many so-called pros tend to no show, not complete the job or leave you out of the loop when it comes to communication. This will never be something that you have to worry about when it comes to working with our North Myrtle Beach irrigation company – we care as much about your yard as you do!
Myrtle Beach New Irrigation System Installation
Before getting your yard started, let us provide you with the new irrigation system installation services you need. SeaGreen Lawn Care And Irrigation, Inc. is the only irrigation company in the North Myrtle Beach area that you need to know for this type of essential service. We look forward to working with you and providing you with the quality or workmanship and final results that you need and deserve.
If you need a professional for new irrigation system installation in North Myrtle Beach or the surrounding areas, please call 843-249-9565 or complete our online request form.
Recent Articles
Is An Irrigation System Right For Your North Myrtle Beach Home? - What many people do not realize is the importance of getting an irrigation system in place for your North Myrtle Beach lawn. Keep in mind, you cannot truly have the home of your dreams without having the perfect lawn to go with it. However, no matter how naturally beautiful the neighbor's yard may look … Read More
Importance of Custom Lawn Care Programs in North Myrtle Beach - One of the main questions that we get here at SeaGreen Lawn Care And Irrigation, Inc. is about our customization in lawn care programs. For starters, the average homeowner thinks that this is something that they can take care of on their own. So many big box home improvement stores advertise … Read More