Don't Get Left Out in the Cold!
Get more involved in the CIA in 2018
Happy New Year to everyone!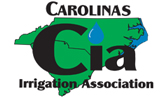 The holidays have past and cold weather is upon us. It's a time to review the past year, sharpen the shovels, and renew our spirit for the upcoming season. Looking back at 2017: What were some of your most meaningful associations from a business perspective? Did you foster relationships that brought you a return in your professional development? Were you actively involved with your professional association, The Carolinas Irrigation Association?
Moving into 2018, I encourage each of our members to put a plan together to get actively involved with our organization. Here are a few ways for you to do just that:
Join us for our two golf outings - Charlotte is scheduled for April 19th and Raleigh for June 14th.
Attend the CIA education and networking events like our Waterpalooza (October 2018) or Last Chance (November 2018).
Consider joining a committee and share your ideas with other CIA members.
Get the most out of your association. Mark a CIA event on your calendar. Benefit from the knowledge, expertise and peer relationships available through the CIA. Please contact us if you have any questions or interest!
We are currently in our 2018 Associate Membership Campaign. If you are an Associate member you should have received CIA membership renewal information from Melissa Klingberg, our Executive Director. The CIA is committed to enhancing the membership experience for all of our members. We have added another networking event to our 2018. The Raleigh Summer Golf and Education outing is planned for June 14, 2018! We continue to improve the quality and quantity of our events to enhance the value of membership.
Thank you to all our Associate and Contractor members for your support in 2017! We look forward to an exceptional 2018. The CIA events started off this week with our "Through the Pipes" Education sessions at the Green and Growin' show in Greensboro. Be sure to visit our booth also on Thursday and Friday!
If you have any questions about the CIA and how you can become more involved in the association please contact me at erich@seagreengrass.com or our Executive Director, Melissa Klingberg, at melissa@carolinasirr.org.
Sincerely,
Erich Kolb
President, Carolinas Irrigation Association
If you are looking for a North Myrtle Beach Irrigation Expert, then please call 843-249-9565 or complete our online request form.