Message from the 2017-2018 CIA President Erich Kolb, Seagreen Lawn Care and Irrigation, Inc.
Summer is winding down and fall is quickly approaching, bringing cooler temperatures and reenergizing us for the last quarter of 2017. Talking with fellow professionals across the Carolinas it seems most folks are busy with plenty of work and sales leads. Finding the talent to service clients and get the work done is a huge issue on both the local and national level. Where do you find the people? How do you connect with potential candidates? How do you educate and teach the trade to new hires and your existing team? Your success in business depends on having a talented team that can meet or exceed your customers' expectations.

The Carolinas Irrigation Association understands the issues you are facing and we work hard to provide learning events and networking opportunities that will help you and your business. This past summer CIA members had a chance to: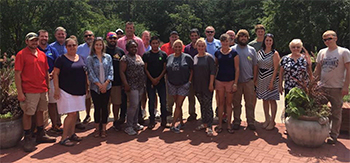 Work side-by-side with the horticultural students from Alamance Community College on an irrigation project at the JC Raulston Arboretum.
Share lunch and great conversation with the Sandhills Community College students in Southern Pines, NC.
These events were a great opportunity to teach and learn from future industry professionals. Interacting with students teaches you how the next generation views the industry and how social media and career expectations are changing the workplace.
Be sure to join us at our upcoming events and check out our new opportunities:
Waterpalooza (Oct. 26) is an outstanding educational and networking event with a great class schedule. The day will include a trade show, breakfast and lunch and will offer classes for our Spanish speaking professionals. See details here and sign up today!
Last Chance CE (Nov. TBD) - Will be held in New Bern this year.
Job Board - Carolinas Irrigation Association is now offering job and internship postings as a new benefit to our members, allowing you to get your job posting in front of the highest quality and most relevant candidates in your industry. Learn more.
Lastly, thank you to all those who have renewed their Contractor memberships. Our community may be a small one, but we are out there supporting one another and helping to advocate for our industry in a big way. CIA aims to provide value to you and your business, and to promote the industry through education, networking, and industry representation. Your membership and involvement keep CIA going strong.

If you have any questions about how you can become more involved in the association please contact me at erich@seagreengrass.com or our Executive Director, Melissa Klingberg at melissa@carolinasirr.org.
See you at Waterpalooza!

Sincerely,
Erich Kolb
President, Carolinas Irrigation Association
If you are looking for a North Myrtle Beach Irrigation Expert, then please call 843-249-9565 or complete our online request form.