Large Patch Disease - Fungal Infection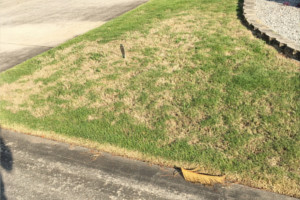 Excessive rain leading to excessive moisture combined with humidity lead to the onset of the disease.
The disease actually "sets-in" in the fall, but symptoms may not be seen until spring.
The grass will recover from "mild" cases. BUT NOT YET! IT'S ONLY EARLY JUNE! Your lawn needs time and warm temperatures.
We need warm temperatures and dry days. Warm temperatures mean consistent highs 80+ and lows 60+. We do not have that yet.
What Homeowners Can Do:
Do not water the grass. It will only encourage spreading.
Improve drainage if possible.
Do not fertilize late in the fall or early spring. This is why we do not fertilize early.
Rake dead thatch out of lawn.
BE PATIENT!
What Seagreen Can Do: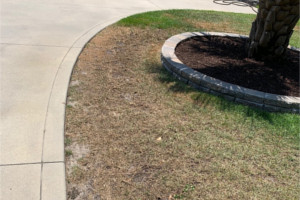 Currently, we can schedule and apply a liquid fungicide. This will stop the spread of the disease. Fungicides are active for 30 days. By this time the weather and growing conditions will be more favorable. Clients can call/schedule a fungicide application with Gloria at the office. Our fungicide application combined with warmer weather will improve conditions. In severe bare areas, we can recommend seeding/sodding.
IMPORTANT: The BEST time to apply fungicides to control Large Patch is in the fall. We want to stress the importance of timing and preventative treatments in the Fall. Schedule NOW if your lawn has a history of fungal issues. 
If you are looking for a lawn care company in the greater North Myrtle Beach area please call 843-249-9565 or complete our online request form.