Experienced Carolina Shores Irrigation Company & Lawn Care Pros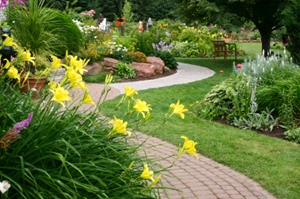 What's so important about having a reputable and dependable Carolina Shores irrigation company and lawn care expert to work with? Think about making a good first impression, adding to your curb appeal and increasing the value of your residential or commercial property for starters. The bottom line is that you cannot truly have the home of your dreams without also getting the perfect lawn to go along with it. So, if you are ready to get the expert work that you need to create and maintain the perfect grass, the only name that you need to know is SeaGreen Lawn Care And Irrigation, Inc.
Not only is our founder, Erich Kolb, known for bringing 30 years of industry experience to the company, he continues with ongoing education. The only want to stay abreast of what changes and advancements are available to the Carolina Shores lawn care and irrigation industry is to continue training, something the majority of other so-called pros don't bother with. Get in touch with us today in order to get started working on your lawn care enhancement work!
Carolina Shores Irrigation Specialists
You need to be certain that you have a proper system in place to take care of your need for irrigation in Carolina Shores, NC. No grass grows on its own, if you want it to look healthy and retain that stunning shade of green, without regular watering. This is where our experts come into the picture; whether you need a custom designed sprinkler system or just need us to address your need for repairs and service for what you already have in place, we can do that.
Assuming that your grass will grow just fine without this added step to help along the way can be a pricey mistake to make. What is the point of having a luscious lawn put in place only to neglect to give it what it needs to have to not just survive, but thrive? You will quickly notice your new grass doesn't look green and vibrant. Try watering it yourself with a hose and you are likely to end up with some spots that are over watered and others that dies from not enough water. With the help of our irrigation company, however, you can get proper lawn irrigation and a customized lawn care program that suits your needs.
Carolina Shores Customized Weed & Insect Control Programs
We can also take care of the essential weed and insect control services you need to keep your yard healthy. We can detect problems early on and help prevent it or at least eradicate it in a timely manner. When you realize that you need a lawn care company in Carolina Shores, NC, let SeaGreen Lawn Care And Irrigation, Inc. show you what makes us the local leading service provider.
If you are looking for a professional Carolina Shores irrigation company or lawn care services, then please call 843-249-9565 or complete our online request form.