Enrolling in a Weed Control Program Ensures a Healthy North Myrtle Beach Lawn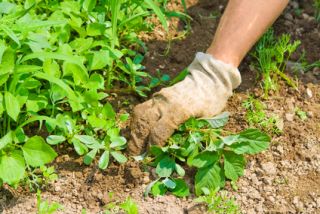 Keeping your lawn and landscaping well maintained, lush, and healthy is a difficult task. One of the most frustrating aspects of lawn maintenance is dealing with weeds. Weeds are perhaps the biggest threat to a vibrant lawn because they rob nutrients and water from the soil and can block sunlight.
At Seagreen Lawn Care and Irrigation, Inc., our North Myrtle Beach Lawn Care Team are here to help you with this immense responsibility. By enrolling in our weed control program, you can always rest assured knowing that your lawn is protected from adverse plant growth.
Call Seagreen Lawn Care and Irrigation, Inc., today if you are interested in enrolling your North Myrtle Beach property in a weed control program. Our courteous and polite staff is here to assist you in anyway that we can. Our knowledgeable experts can answer any questions that you may have about our amazing weed control program. We can schedule your appointment today.
Weed Control is a Year Round Effort
The main reason that it is beneficial to enroll in our week control program is that protecting your lawn and landscaping from weeds is a year round effort. Our professionals know the best treatments to deal with specific types of weeds throughout the year.
During our services, we will both remove existing weeds from your lawn and landscaping and will put in place preventative treatments to inhibit weed growth in the future. In this way, your property enjoys a double layer of protection from the threat of weeds.
Weed Control Beautifies Your North Myrtle Beach Property
By enrolling in our year round weed control program, you take a great step towards keeping your property looking its absolute best. Because you will not have to deal with problematic weeds, your lawn, flowerbed, and garden will be free to grow and thrive.
These integral portions of your landscaping will look absolutely phenomenal when they are cared for by our North Myrtle Beach landscapers. You and your family are guaranteed to be completely satisfied with the results.
Professional Weed Control Makes Landscaping Easy
The greatest benefit to you and your family from our weed control program is that it will save you countless hours of outdoor work and frustration. After all, the entire purpose of your lawn and landscaping is to boost your enjoyment of your home. Now you will have all of the benefits of a healthy and beautiful lawn, without the hassle.
If you are interested in hiring a North Myrtle Beach landscaper to enroll in a weed control program, call Seagreen Lawn Care and Irrigation, Inc., today at 843-249-9565, or fill out our online request form.