North Myrtle Beach Weed Control Programs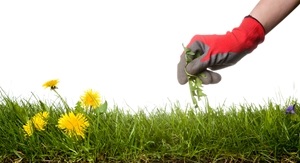 If you are looking for the best in Myrtle Beach weed control programs you have certainly come to the right place. Here at SeaGreen Lawn Care And Irrigation, Inc. we have the training, skills and more than enough experience in the industry to understand the importance of proactive preventative care, as well as addressing weeds once they appear. This is absolutely essential for establishing and maintaining a healthy and lush looking lawn. This is also why our weed control program includes both pre-emergent and post-emergent weed control applications.
Weeds are any type of unwanted, unplanned and uninvited plant growth that ends up interfering with the plants that you do want growing. This is a big problem because these weeds rob the grass or plants of the nutrients, water and sunlight needed to continue to grow healthy. Not only this, but once weeds appear and begin to weaken otherwise healthy grass, this makes the grass more likely to be susceptible to other threats such as pests or disease. Keeping that stunning looking yard takes ongoing work but you can feel good knowing that we will be there to provide that for you.
Weed Control Specialists
The SeaGreen Lawn Care And Irrigation, Inc. is the number one name to call on for any lawn care programs for warm season grasses in the area including Bermuda, Zoysia and Centipede. Obviously, a key factor in having great success for your lawn is to let us devise a customized plan for your weed control, as well. The pre-emergent steps are to try to avoid enabling weeds to ever even appear or surface; destroying them before they can take hold and emerge.
So what you need to know is that post-emergent is the work done once weeds have already made an appearance and before they can start to do any damage. By working with our team of experts you can feel good knowing that we will be on the lookout for any signs of developing or surfacing weeds. From there we can address the potential threat aggressively, eradicating it before it develops any further. Don't take chances when it comes to the the work that goes into your yard or the results that you get. Get in touch with our North Myrtle Beach lawn care services team today for true quality results.
Myrtle Beach Weed Control Programs
When you are ready to get started with your weed control program in North Myrtle Beach or nearby, you can rely on us. Here at SeaGreen Lawn Care And Irrigation, Inc. we care about your lawn as if it were our own. We are dedicated to providing the finest results because we are passionate about the work we do and about taking care of our customers. Contact our lawn care company today to learn more or to get an estimate for your custom program.
If you need a professional for weed control in North Myrtle Beach or the surrounding areas, please call 843-249-9565 or complete our online request form.
Recent Articles
Understanding Spring Dead Spots - It isn't uncommon around late April into early May to detect spring dead spot on your lawn. Spring dead spot is a disease that is normally discovered during the greening up period and are large dormant spots on your lawn that can surface as circular or irregularly shaped patches. … Read More
ALERT – ARMY WORMS - The season is fast approaching for army worms to invade area lawns. Seagreen Lawn Care wants you to be aware of the devastating damage that army worms can do almost overnight. We offer a preventive insecticide treatment to avert army worm attacks … Read More