Time To Set Your Clocks Back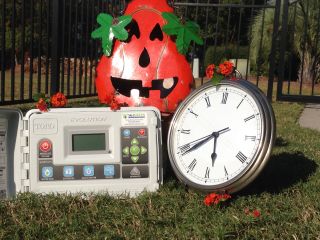 We all know about setting our watches back and enjoying that extra hour of sleep. But what about turning the watering times your irrigation controller back? Have you looked at your irrigation controller since summer? Are you still watering your lawn like you did in July?
Overwatering your lawn wastes our valuable water resource, costs you money in water bills, and promotes disease in your lawn. The temperatures are cooler, the days are shorter and your warm season lawn is slowing down for the season. Your lawn simply does not need the same amount of water that it required in the summer.
Excessive watering encourages fungal diseases in your lawn. Brown Patch and Large Patch are two examples of disease that can damage your lawn.
Check your irrigation system and dial back the water this fall. If you need any help with your irrigation system or lawn please give us a call.
If you are looking for a North Myrtle Beach Irrigation Expert, then please call 843-249-9565 or complete our online request form.