Plant Irrigation System Installation in North Myrtle Beach, SC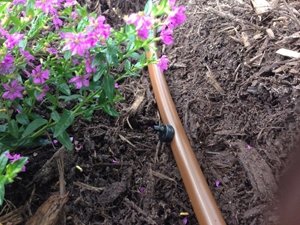 Below you'll see photos from one of our recent projects featuring an irrigation system installation in North Myrtle Beach, SC. Foliar diseases such as leaf spot shown in the first picture below can develop from excessive overhead watering. In this case irrigation that is meant to water the lawn was placed behind the plant material. Two problems arise from this. First as the plants grow the foliage blocks water from reaching the intended target which is the grass. The second issue is that many plants are can develop foliar diseases from excessive overhead watering. This can lead to leaf spotting.
A better approach is to have the lawn irrigation set forward of the plant material. The lawn would receive adequate water and the plants would not suffer in the process. This can be achieved by relocating the lawn sprinkler heads.
To learn more about our irrigation system installation services, please call our North Myrtle Beach irrigation company today. We'll be happy to answer any questions you have about proper watering systems, our pricing, and more.
Project Location: North Myrtle Beach area
Before Irrigation System Installation
Notice the leaf spots on the plants in this photo.
Installing the Irrigation System
Work in progress: Drip irrigation is an excellent way to water plants efficiently. Water is distributed directly to the plant roots where it is needed most. With drip irrigation you do not waste water or promote foliar disease problems that can come with excessive overhead watering. Here are some photos of the installation phase of the drip irrigation system installation in North Myrtle Beach, SC project.
After Installing the Irrigation System
Drip irrigation is installed and covered. Plants are watered and happy!
Recent Articles About Irrigation Systems
Is An Irrigation System Right For Your Myrtle Beach Home? - What many people do not realize is the importance of getting an irrigation system in place for your Myrtle Beach lawn. Keep in mind, you cannot truly have the home of your dreams without having the perfect lawn to go with it. However, no matter how naturally beautiful the neighbor's yard may look … Read More
If you are interested in getting an estimate for irrigation system installation in North Myrtle Beach, SC, please call 843-249-9565 or complete our online request form.